How It Works
Take your first step to organizing your family online
Any stage of life
LifeSite works to keep you prepared for any situation.
Natural Disasters
The last thing you want if you're evacuating ahead of a fire, flood, or any other sort of emergency is to be hunting for your passport or insurance documents.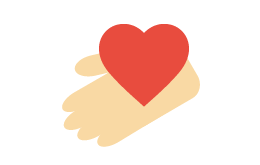 Caregiving
LifeSite makes sure everything related to your loved one is in one place and always securely accessible, so everyone involved in your loved one's care stays up to date.
Major Life Events
Whether you have a newborn, are sending one to college, or simply refinancing a loan, it's never too soon (or late) to start digitizing and organizing your family's information.
At Your Fingertips
Forgot to bring that important document? With LifeSite, your identifications, health documents, passwords, and more are always secure and accessible anytime, anywhere.

Collaboration
(kuh-lab-uh-rey-shuh-n), n. the action of working with others towards a common goal
At LifeSite, we know managing your family's information is a team sport. That's why we call anyone with access to that information a collaborator.

Controlled Access
You always stay in control of your information
Before a collaborator gets access to your LifeSite, you select which categories you want your collaborator to view or edit.
Mobile Information
Your data needs to be as mobile as your lifestyle
LifeSite's mobile app means you always have access to your information, whether you're in the emergency room or stuck at the airport.

Scanning Simplified
Throw away that bulky scanner
"Point and shoot" to seamlessly scan, edit, and store important documents on-the-go with the app's built-in mobile scanner.

Intuitive Storage
Way more than just a file system
With dozens of pre-organized categories, you and your collaborators save your information where it makes sense, not in one massive, cluttered folder. Our intuitive structure makes information and file retrieval fast, especially when you're out of the house or traveling.
Tireless Security
Patent-pending security architecture
LifeSite doesn't stop at military grade AES-256 encryption. No matter what device you use, multiple layers of privacy and security protocols constantly monitor and safeguard your information, keeping it safe, accessible, and secure at all times.
Stay Prepared for Any Situation
Use LifeSite Plus for free during the COVID-19 pandemic