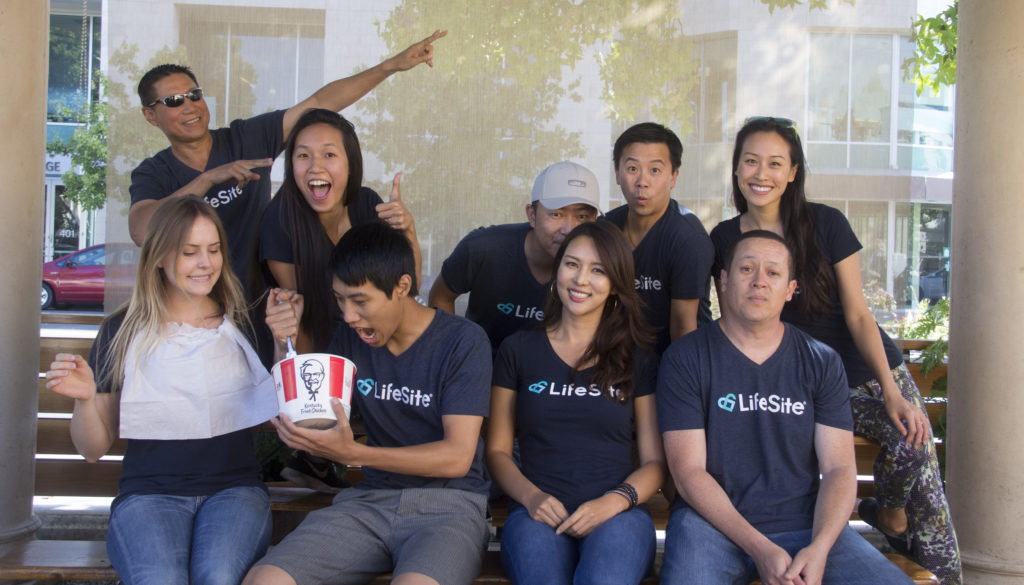 Congratulations to Jack Y., the winner of our LifeSite Match Game and a brand new LifeSite t-shirt! And thanks to everyone else for playing. Here's the answers as well as a little bit more about each LifeSiters' resolution.
Adam (Technical Lead)
Resolution: Don't break Barney
Adam finally convinced a few of us to come out and join his regular basketball pickup games, and of course, Barney immediately tore his achilles. Go figure!
Amy (Designer)
Resolution: Think of a good new years resolution
Whether it's volleyball tournaments, visiting local brew houses, or making costumes for the holidays, Amy keeps BUSY. Resolutions? Amy don't need no stinkin' resolutions!
Barney (Designer)
Resolution: Give Kevin all the Westworld spoilers
Barney's always cracking us up, and his list of resolutions consisted of ways to spoil every one of our resolutions. Suffice it to say we're all on the lookout now.
Chris (CEO)
Resolution: Take a real vacation
It's been 4 years since Chris really disconnected and let his hair down. Knowing Chris, this resolution doesn't seem likely to happen in the near future, but we're rooting for him!
Crystal (Support)
Resolution: Run at 5K and/or do Questival
If you know Crystal, you know she always stays in shape. Luckily she's managed to rub off on a few us, and we'll occasionally join her at the nearby fitness studio.
Dan (Engineer)
Resolution: Become good at indoor rock climbing
Dan's swears by his new workout regimen, saying it's super fun with it's ridiculous skill ceiling (but also easy to start). Doesn't hurt that his gym has nitro-infused cold brew coffee on tap, too.
Eric (Engineer)
Resolution: Go to Crossfit more
Eric and the rest of the East Coast team started Crossfit last Spring, but their attendance has since tailed off. In the spirit of getting back into shape and not letting the entire company down (!!), Eric's ready to pick up the slack.
Kevin (Marketing)
Resolution: Get caught up on Westworld while avoiding spoilers
Our office is full of self-proclaimed nerds, and we all caught the Westworld fever. Kevin is woefully behind, though, so the headphones immediately go on whenever anyone mentions it.
Jackie (Designer)
Resolution: Move up at least one belt level in Karate
Our newest employee just so happens to also work at a Karate studio, so we're all very mindful not to go too far with our office pranks. We kid because we care, Jackie!
Joe (Engineer)
Resolution: Create a business plan for buying property in Costa Rica
After a close friend's fiance unexpectedly passed away, Joe and his friend have always wanted to build housing in Costa Rica for terminally ill patients to stay free of charge. Now that's a resolution!
YoonJin (Business Development)
Resolution: Paint more and go to more art museums and exhibitions
Having recently moved to America, YoonJin's really embraced the life and culture here in the Bay Area. She's even more familiar than most of us with the local art scene now.