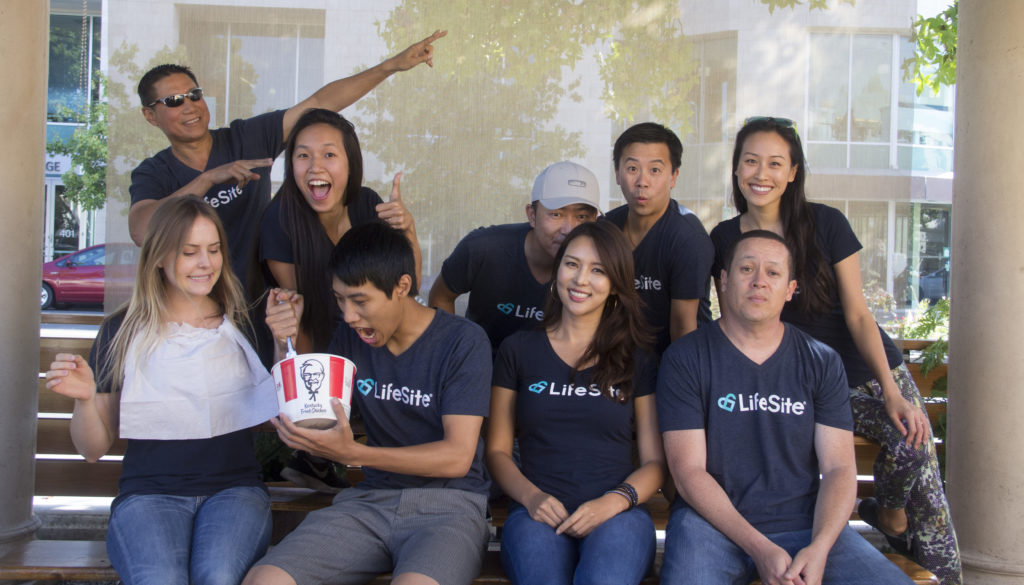 Exactly one year ago LifeSite came to be. We started with nothing more than a founding team of six hungry people and their heartfelt commitment to help families; our beginnings were humble and hopeful. Since then, our team has doubled, we've moved into two offices, launched an iOS and Android mobile app, and are well on our way to fulfilling our mission of sharing peace of mind through technology. A year in, we are more excited than ever to continue our mission. We brought the team together to reflect on the journey so far and share their most memorable moments and what drives them every day.
What's your favorite memory over the last year?
Adam (Technical Lead):
Pajama day. The first one. We ate popsicles.
Amy (Designer):
Pajama Wednesdays.
Yoonjin (Business Development):
I still think about the cooking competition and Khee making a "man salad" with giant pieces of broccolini in it. Also when Barney photoshopped Chris's face on Crystal's pageant picture. That was funny and at the same hurt my eyes.
Joe (Principal Engineer):
Visiting Napa and San Francisco for the first time.
Kevin (Marketing):
Chris wearing yoga pants to our company workout.
Jen (Designer):
Everyone here often praises my skills, like chopstick handling. Handling family matters can be sticky business, but LifeSite is uniquely focused on connecting and organizing families through transition. Even the people who make the product are family, the sharing food kind of family.
Crystal (Support):
Having authentic Thai food with our Binghamton-based engineers and playing with Barney's adorable 10 month-old daughter.
Chris (CEO):
Watching a team grow and "punch above their weight class."
What inspires you to come to work?
Eric (Engineer):
I am able to work with new technologies, and that's what drives me, and keeps me coming into work every day. I also enjoy collaborating with my really good friend, Joe.
Joe:
The chance to work on something that is built the right way.  I have always wanted the opportunity to make something that is built using the latest technology.
Barney (Designer):
Working with people who I actually like. It's also gratifying to teach younger people things that I know will help them in their career.
Yoonjin:
Our vision. Helping people have a better life and helping them share their life story with their families.  LifeSite reminds me of my own family and makes me proud.
Kevin:
For the fun work environment in which we all share a similar sense of humor.
Tyler (Intern):
Food!
Is there anything you want our users to know?
Eric:
I wish our users knew that we put a lot of time and effort securing their data the right way. We work very hard to architect this product in the correct way, so we can keep their life's information safe.
Joe:
The quality of our development team. We strive to do things the right way no matter what.  Even though we have a small team, we can make an amazing application.
Kevin:
Every LifeSiter has a personal story and a different way in which LifeSite Vault is helping us and our families. We hope you take the chance to find your own way to LifeSite!
Adam:
I would like them to know where the payment portal is.
Yoonjin:
We are not just building the product for business. We are building LifeSite to impact people who have problems sharing their life information with whomever you trust. I use LifeSite for sharing my passport scans, medical document, tax documents, and so on because LifeSite is the only tool I trust for security.
Chris:
That we are committed and believe that we can make a positive impact for all families across the globe.