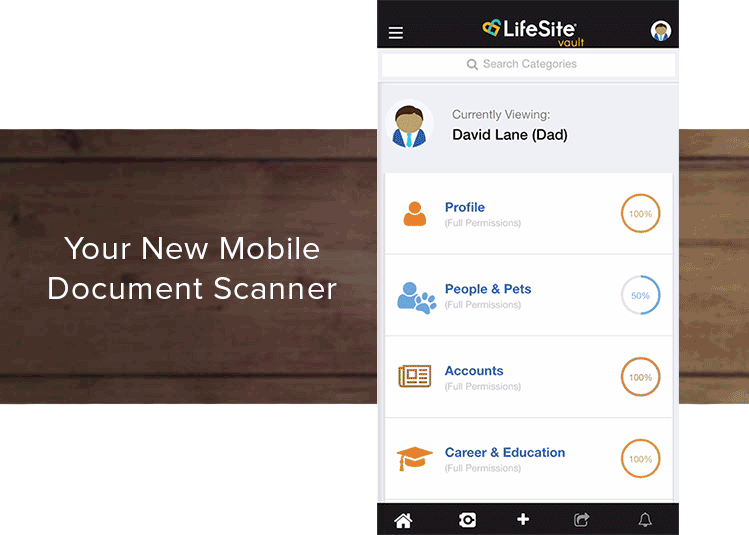 Mobile scanning apps can be helpful tools, but few smartphone owners are actually using them. Many users are deterred by the complexity to set-up or use current scanning apps. LifeSite recognizes this and is pleased to share the newest version of our LifeSite Vault companion mobile app, designed to easily "point and shoot", automatically store, and keep documents securely available to access and share. LifeSite Vault 2.1 provides optimized scanning and secure digital storage, all in one place — no additional app to purchase or install.
Mobile Scanner
With a native scanner built into the app, users can now easily scan, edit, and upload documents directly into their secure LifeSite Vault.
Optimized scanning and saving of multi-page documents in PDF format
Scan multiple pages in one sitting and organize them with custom actions including: thumbnail preview, "drag and drop" reordering, and selective "simple swipe" deletion
Intuitive editing capabilities for color or black and white documents including filtering, rotation, cropping, skew, brightness, and contrast
Tips for optimal scans are provided during the scanning process
Automatic categorization during upload to LifeSite Vault
Securely share documents with family members or trusted advisors
Collaboration Management
The "Manage Collaborators" feature allows users to set permissions to both co-manage information with a partner and selectively share with up to four trusted sub users: family members, friends, advisors, etc. Easily add, manage, and switch between LifeSite Vault accounts from the main menu. Only LifeSite Vault Plus provides fully customizable access to share important information with the ones who matter most. Users can designate "view only" or "edit" access for each category of information, or can choose to "block" access to certain documents or categories.
Settings
Settings can now be managed from the main menu. Change your password, manage your LifeSite Vault account, set up two factor authentication or delete data…all on LifeSite Vault 2.1.
Why take chances with your personal information?
Download LifeSite Vault
and gain peace of mind with LifeSite Vault today!
---
Send a link to your device.
Or download the LifeSite mobile app from your favorite store.